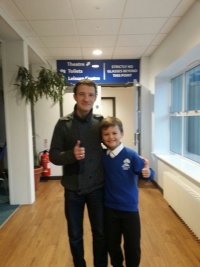 WEDNESDAY, MARCH 12, 2014
This weekend Ross Backshall, from the Isle of Wight, will be completing a special triathlon put together by his trainer Vicki habgood who works for Median Leisure Centre, to raise much needed funds for Hampshire and Isle of Wight Air Ambulance.
Ross, who has learning difficulties, was encouraged by his carer to maintain his fitness and as a result started using his efforts to raise money for various charities.
Currently working part-time in Sainsburys Local in Cowes and on a Saturday morning doing a show on Wight Island Radio, Ross enjoys getting involved in his local community.
His chosen charity for this particular event is Hampshire and Isle of Wight Air Ambulance because he wanted to do something for a local charity that benefits the island, so the Air Ambulance seemed like the perfect choice as it is a service that Ross or his family might need one day.
The triathlon has been put together by his trainer Vicki and comprises of a 5km run around Medina, where she will be running with him, a 20km cycle part which will be completed on an exercise bike at the gym and 30 lengths of the pool which his 9 year old nephew Billy Backshall, will be swimming with him.
Hampshire and Isle of Wight Air Ambulance will be there all day on the 15th with merchandise and collection pots for Ross. He also has a donation page on .www.virginmoneygiving.com/rossbackshall he is hoping to raise £2500 for his event. So please show your support and help him to reach his target.
Chief Executive of Hampshire and Isle of Wight Air Ambulance, John Perry said 'We are always so grateful to people willing to challenge themselves in order to raise money for our charity. We receive no government funding for operational purpose, relying entirely on the generosity of the people and businesses of Hampshire and the Isle of Wight to keep the Air Ambulance flying and saving lives.'